Easy clamping with just 1 wrench
The cutting tool can be clamped or unclamped easily and securely with just 1 wrench. Extremely good repeatability and runout accuracy are guaranteed.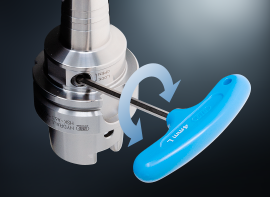 Runout accuracy less than 3μm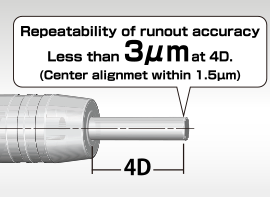 High precision runout accuracy within 3μm at 4D.(center alignment repeatability within 1.5μm) High runout accuracy improves the workpiece surface finish and extends tool life.
Integral sleeve construction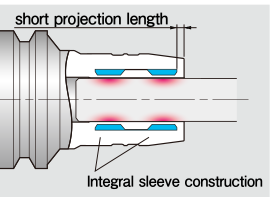 Compared to the two-piece structure sealed with O-rings, the BIG Hydraulic Chuck gains stable precision and high rigidity. Further, the runout accuracy is greatly improved by short projection length and the dual oil pressure points.
Standard / High Rigidity Type
Amazing runout accuracy within 1μm at 4D.
The ultimate precision hydraulic chuck.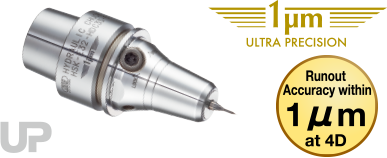 HYDRAULIC CHUCK LATHE TYPE
NEW innovation for CNC automatic lathes.
Easy to change tools even inside a machine with limited space, using a single wrench.